EdCan Network News
School District Innovation Case Study: Avoid using "21st Century Learning" jargon and gently pull resistors forward
New Canadian Education Association report details how the Ottawa Catholic School Board has become one of the most innovative school systems in the country.
A comprehensive case study research report released by the Canadian Education Association (CEA) provides key insights into how – in five years – the Ottawa Catholic School Board (OCSB) went from teaching with overhead projectors to creating a robust digital learning ecosystem in all of its 83 schools.
Beyond avoiding the use of "21st Century Learning" jargon, OCSB leaders communicated their plan clearly and effectively to achieve critical support from all partners. They customized the pace of professional learning for each teacher. They also secured a budget commitment from trustees to convert all libraries to Learning Commons. The OSCB also made WiFi universally available to support Bring-Your-Own-Device (BYOD) programs so that social media could be used a learning tool among all students, teachers and administrators. Gradually, the prevailing culture of caution and control gave way to curiosity and innovation.
Case Study Report Executive Summary and Videos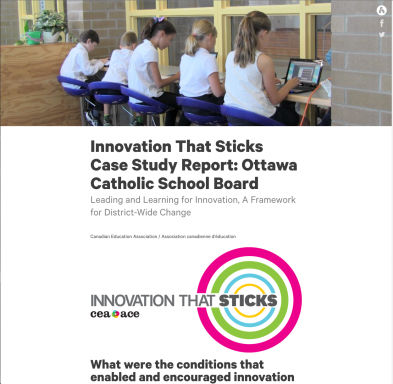 Full Case Study Report
"This case study research confirms that there is no magic bullet to transforming classrooms," says CEA President and CEO Ron Canuel. "This Board built a master plan that focused on learning and teacher support first, then the technology, and they recognized that one PD model does not fit all teachers – all crucial elements to growing innovative practice beyond one classroom or school."
The OCSB was selected among 35 school districts to participate in CEA's Innovation that Sticks case study research program and received a $10,000 contribution courtesy of State Farm Canada to support their ongoing innovation. OCSB representatives then shared lessons learned along their journey to success for this case study report, which also contains key observations and recommendations for other education leaders faced with the challenge of determining how they can get their own innovations to grow from classrooms to entire schools and school districts.
"OCSB leaders support risk and encourages early adopters to take the lead. Their progress demonstrates that innovation by nature is disruptive and happens before everyone agrees to it. Buy-in is truly established with a long-term consistent plan to shift attitudes and behaviours in supporting of innovation. That is why early adopters exist – they try something new even if they know that it might not work," says Canuel.
For more information:
Max Cooke
CEA Director of Communications (bilingual)
416-591-6300 ext. 225
mcooke@cea-ace.ca
@max_cooke
Supported by:

This initiative is generously funded by State Farm Canada, which share CEA's commitment to supporting leaders who are transforming Canada's education system.