EdCan Network News
CEA and Reader's Digest Canada Launch the 2016 Canadian Innovators in Education Awards
$40,000 in prizes available to school districts that have influenced lasting change in their education systems.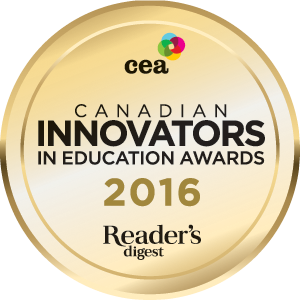 Toronto – March 7, 2016 – The Canadian Education Association (CEA) and Reader's Digest Canada are pleased to launch the 2016 Canadian Innovators in Education Awards to celebrate and promote educators who are leading lasting and system-changing initiatives at all levels of K-12 education in Canada.
These awards will recognize and showcase the work of teachers, principals and administrators who are developing innovative teaching and learning programs throughout their school districts with a particular focus on improving student engagement and learning.
FIRST PRIZE IS $25,000. THE SECOND AND THIRD PRIZES ARE $10,000 AND $5,000, RESPECTIVELY.
The cash prizes will be presented to the winning schools/school districts to continue to support and grow the innovative programs and initiatives that are being recognized by these awards.
"These awards provide a wonderful opportunity to recognize courageous education leaders who dedicate their lives to transforming our education systems," says CEA President and CEO Ron Canuel. "We share Reader's Digest Canada's commitment to ensuring that these awards build awareness of innovative approaches that can be replicated in other school districts across the country."
Winners will be chosen by a jury of CEA and Reader's Digest representatives and will be announced in October 2016.
APPLICATION DEADLINE: MAY 18th, 2016
For more details on the 2016 Canadian Innovators in Education Awards, please visit: www.cea-ace.ca/RDawards
About CEA
Celebrating its 125th anniversary in 2016, CEA is a not-for-profit research and action centre. With members representing the entire spectrum of stakeholder groupings in education, CEA's endurance reflects a sophisticated understanding of critical and timely educational issues. Its strength lies in the strategic roles it plays in the Canadian education scene: as a thought and action leader, a connector, and a knowledge mobilizer.
For more information:
Max Cooke
CEA Director of Communications (bilingual)
416-591-6300 ext. 225
mcooke@cea-ace.ca
@max_cooke