DECEMBER 2-3, 2013
Atlanta Marriott Marquis
Don't miss the most important 1:1 event in North America!
View the impressive program here
CEA has joined forces with the One-to-One Institute and the Lausanne Learning Institute as co-organizers of this international 1to1 computing conference in Atlanta, Georgia!
This exciting event provides an opportunity for your district's leadership team to learn from 1:1 practitioners from around the globe and begin developing your 1:1 strategy, vision, project plan and more. Whether your district is investigating the possibilities of 1:1 computing, or you are looking to maximize the academic and financial benefits of ubiquitous technology, the International 1:1 Computing Conference has something for you.
Participants will have the opportunity to talk with Alicia Banuelos from San Luis in Argentina, Pierre Poulin from Commission Scolaire de la Pointe-de-l'Île in Montreal, Leslie Wilson from the One-to-One Institute, Donna Tueber from Richland School District II in South Carolina, Elliot Soloway and Michael Mason from Reeds Spring Schools in Missouri, Ron Canuel from the CEA in Toronto, Brant Davidson from the International School in Zug, Switzerland, Stewart Crais from the Lausanne Learning Institute, John Bailey from the Foundation for Excellence in Education, and many others who are leading successful 1:1 initiatives.
Whether your district is just starting to think about implementing 1to1 technology or has been running a program for several years; whether you're a teacher who is unaware of how technology can support your practice, or you've been awarded for your work with technology, the 2013 International 1to1 Conference will provide you with new knowledge, practical strategies and the opportunity to network and collaborate with your educational colleagues from the U.S. and Canada.
The 2013 International 1:1 Computing Conference will help you move forward from wherever you are on the technology implementation continuum, and guide you on a path to success.
Don't miss out on this outstanding learning opportunity!
Exciting Program Updates
Stories from the Front Lines
Defining the skills that 1:1 school leaders need
Provocative Panel Discussion: So You Want to Start a 1:1 Project
Three 1:1 experts who wear the battle scars of success share anecdotes of what not to do
1.21 Gigawatts: Back FOR the Future
Understand what a 21st Century classroom should be by experimenting with it
Avoid the "Traditionalist" Endangered Species List
A guide to integrating technology into the traditional high school classroom
10 Years into 1:1: A Survivor's Guide
An ongoing tale of courage and perseverance
Why Wireless Networks Need a Lot of Wire (and a few other bits too)
Explaining the essential 'backbone' infrastructure that you need, minus the jargon
Keynote Presentations
A Master Plan That Put All the Kids Online
The Making of San Luis into a Digital State
Alicia Banuelos
Internationally renowned digital expert, researcher, entrepreneur and author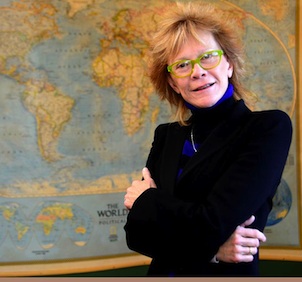 When the former Governor of San Luis asked Alicia Banuelos for a digital plan to transform this largely poor and rural province in central Argentina into a knowledge society, a technology integration model for other jurisdictions across the world was born.
During her ambitious drive to equip all students, and adults, with the skills necessary to leverage learning through technology – which included making free wi-fi for all a constitutional right – Dr. Banuelos' plan came to fruition with ubiquitous government-sponsored technology throughout the territory, accelerated skill development among adults, and above all, technology in every classroom, which led to dramatically heightened student achievement.
Dr. Banuelos will share her success story of citizen empowerment, including details from her master plan that mobilized the political, community capacity building, and evaluation levers for change. This keynote presentation will serve as an inspirational blueprint for all who have ambitious 1:1 goals for their school communities.
The 2013 International 1to1 Computing Conference
Program Goal:
The goal of the 2013 International 1:1 Computing Conference is to provide participants with new knowledge, practical strategies and the opportunity to build a community of practice around using technology to transform classroom instruction and to deeply engage students through communication, collaboration, creation, and personalized learning. Participants will collect best practices that can be applied 'just in time' upon returning to their school districts.
Program Format:
This will be first and foremost the participants' conference – an engaged discussion in a safe and collaborative environment focusing on our stories of 1to1 implementation and classroom technology integration that include our challenges, solutions, and even our failures. We request that you build your session proposals around your district stories, but embed them in the context of group discussions and hands-on experiences.
Program Strands:
Participants are encouraged to share their stories in 1-hour presentation and discussion sessions or longer hands-on workshop proposals within the strands below:
1. Courageous 1to1 Leadership
Courageous leadership is paramount for 1to1 program success. It is a passion and focus to challenge legacy practices that no longer serve our learners through planning, project management, strategic visioning and learning communities.
Presenters (i.e., Superintendent, curriculum and instructional leaders, technology leaders, building administrators) in this strand will share stories of their transformative leadership that inspired organizational growth, performance and achievement of 21st century learning goals through the power of 1:1 technologies. Participants will learn how to stimulate support and encourage early adopters to move 1to1 initiatives forward within their school communities.
2. Great Classroom Practices Across Borders
It is a global movement! In the U.S., Canada, and around the world, educators and students are integrating multiple technologies with standards, curriculum and instructional practices where learning happens 24/7 – within and beyond the bricks and mortar restrictions of a traditional school.
Presenters (i.e. Classroom teachers, tech integration specialists, and curriculum leaders) in this strand are strongly encouraged to format sessions within a powerful story context, with special focus on practical strategies for the integration and management of technology. Presenters will provide participants with specific hands-on demonstrations and relate real-world experiences while deepening student intellectual engagement, personalization and individualization of learning, use of tools and applications and a shift from teacher to student-focused practice.
3. Emerging Research, Ethical and Legal Considerations
There is an ever-expanding bank of research related to education technologies and 1to1 teaching and learning. In these 1to1 high tech environments, there must be forethought and policies emphasizing the ethical, legal and safety considerations.
Presenters (i.e., district level administrators, financial leaders, legal counsel, researchers, program evaluators) in this strand are considered experts on these issues and will share their bodies of research, stories, experiences and practical efforts in the context of informing best practices and strategies.
4. Capacity-building and Sustainability for 1to1
There is no easy 10-step process to 1to1 implementation for your technology plan to be sustainable. This program strand will focus on high quality professional learning for all stakeholders; sustained PD for teachers that has changed instruction, train the trainer and leadership development; putting strategic visioning into practice for implementation and funding; building program scalability; provision of robust infrastructure/network/bandwidth; and how to ensure redundancies among leaders, teachers, and IT support.
Presenters (i.e., Superintendent, curriculum and instructional leaders, financial leaders, technology leaders, building administrators) in this strand will share stories of tenacity and persistence that eliminated the "pilot" and "initiative" mentality. These are programs that have established buy-in at all levels and include sustained staff-development that focus on human, financial and operational capacity, which is crucial for effective 1to1 programming.
5. The Conference 'Unconference'
No keynotes, no seminars…all small group discussion!
Presenters: Anyone attending the conference can set up an unconference time block. Based on the EdCamp event model popping up across North America, this exciting conference strand will be organized onsite, around conversations YOU want to have, and gives you the freedom to lead and/or participate in these discussions of your own design.
TO SUBMIT AN APPLICATION FOR PRESENTATION AT THE CONFERENCE CLICK HERE
CLICK HERE TO REGISTER
For sponsorship opportunities please contact Cailey Crawford at: ccrawford@cea-ace.ca
Hosted By