Fairy Tale month is being celebrated at St. Gregory Catholic School and at its Happy Creek Learning Center, a large castle constructed from cardboard serves as a focal point to inspire and engage the 65 students, aged four to six, in their education.
Dressed up in their armour, three princes discuss how they are going to slay the dragon and save the princess from her impending doom. Nearby, adventurous mountain climbers find safe passage to the top of the mountain and place their flag on its peak. Imagination soars, creativity abounds and friendships are forged!
Following the principles of an emergent curriculum, where students drive their own learning based on their interests and passions, the Happy Creek Learning Center is a unique program existing in contrast to the more traditional junior and senior Kindergarten programs currently offered in Alberta.
A multi-aged approach to Kindergarten is only part of the uniqueness of the Happy Creek Learning Center program. It was created out of a desire to provide students at St. Gregory Catholic School in Hinton, Alberta (a pre-K to Grade 4 school) with the best possible learning environment, based on current research regarding early childhood learning. Sharing the vision that guided this change, we wanted to provide an environment that inspires our students and provides flexibility to their learning, that impacts a broader range of social skills, and that allows teachers to create and adapt both individual learning opportunities and small group instruction. The goal of quality learning based on research that reflects best practices is what inspired us to move in this direction.
Three years in the making, the Happy Creek Learning Center is a play-based, multi-aged, team-teaching, hands-on learning program. A play-based pedagogy, infused with a Reggio Emilia philosophy, is at the core of the student learning. This new approach presented the administration with their greatest challenges. We needed to help parents understand the importance of play and why it is such a vital piece of the puzzle. Parents often view education through the lens of their own past experiences and many of them had difficulty believing in the benefits of play for their children. To overcome this, we started a campaign of sharing research-based literature with parents at every opportunity in all aspects of the program. We had parent meetings to discuss concerns and fears, we had many one-on-one meetings, and we conducted multiple walk-throughs and allowed parents a voice to share their concerns. In the end, we asked that they give us their trust to create this type of learning environment for their children, one that we knew would be based on best practices. Ultimately, the parents trusted us.
In a multi-aged setting, the interaction between the older students and the younger students allows opportunities for positive role modeling, which in turn builds self-confidence and leads to a more positive school experience. Lee-Ann Cross, a key teacher with the program, also sees the benefits of having the same teachers work with students for two years in a row: "Since they have already formed a positive relationship with us, the September transition in their second year is that much easier, for them and for us as well."
The program's team-teaching model is a key difference from the traditional style of teaching Kindergarten: with two full-time teachers and three educational assistants, this model relies on finding each member's strengths through an intimately collaborative process.
Nicole Woloszyn, a relatively new member to the teaching profession with three years of teaching experience, shares her experience with the team-teaching approach: "My professional growth has been exponential since we have started the team-teaching, and I have learned so much in such a short time. The opportunity to talk to each other, both informally and formally, about what's happening in the classroom, about student growth, the opportunity to take on new responsibilities – and having the support of everyone – is unbelievable. I'm not sure that I would be the teacher I am today had it not been for the team-teaching approach."
Lindsey Braucht, an educational assistant, appreciates the collaboration that happens amongst all of the team members. "I didn't realize the amount of detail and specifics that go into planning for student success. We discuss each students' individual needs as well each member's roles and responsibilities for the program. I like the idea that we are not specifically assigned to an individual student, but rather we learn best strategies that work with each student while we are in a specific center or learning area during the day. This way we are better prepared for any type of situation that may happen. Having this weekly meeting really makes me feel valued and that I am a part of the team."
Designing the space
The physical layout of the Happy Creek Learning Center is perhaps the most obvious difference apparent to visitors. The challenge stemmed from how to take inflexible teaching spaces (boxed classrooms) and convert them to flexible learning areas where students can move seamlessly around and direct part of their own learning. Ultimately, this required knocking down a wall between two classrooms and joining another one with an access door. There are three major rooms: the Main Lodge, the Mountain Room and the Butterfly Room. Each room is designed to serve different educational needs: the Main Lodge (previously two separate classrooms) is set up for the morning meetings, thematic centres, literacy and numeracy centres and the morning provocations. The Mountain Room (joined by an access door) facilitates gross motor skills, construction building, and music exploration, and is the noisiest of all the rooms. Lastly there is the Butterfly Room (directly across the hall), which houses creative and sensory experiences such as arts, crafts, cooking, light sensory, sculpting and discovery-based projects.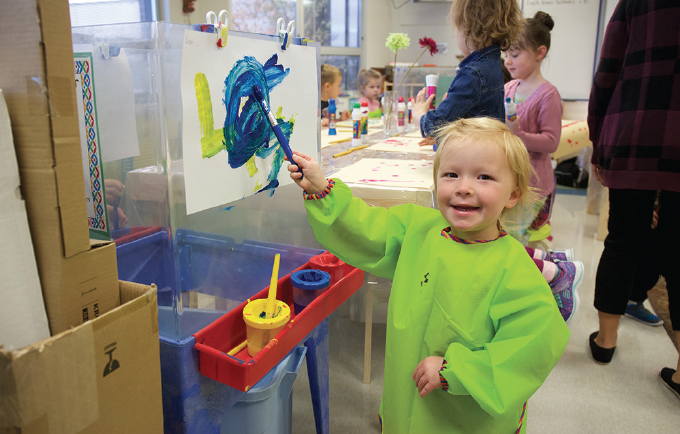 A huge concern for parents was the fact that there would be 65 students in at one time. How was the school going to be able to maintain order and provide quality learning? Nicole Fellows, a parent of a Kindergarten student, shares her initial reaction with the new programming: "I have to admit, I was one of the skeptical parents who did not believe that this type of environment would work for my child. I was worried that having 65 kids running around in the classroom would be overwhelming and had no idea how learning would happen. I thought my child would suffer and be left behind. I've changed my mind! It [the Happy Creek program] is an amazing program! At home, my five-year-old son said to his older brother, 'I have two consonants and two vowels in my name.' His older brother had to ask him what a consonant was!"
Caroline McDonald, the assistant principal, observes, "We recognized that with this many students we had to create an environment that minimized distractions, established routines and traffic flow, and was proactive with transition times to generate more learning opportunities for our students." She adds that building "flexibility and fluidity" into the program has been important to its success. "A great example of this is when students enter the classroom following recess breaks. We run a slide show that rotates through photos of all of our students. Students come in and sit in front of the slide show, watching themselves. Without any prompting, they have gathered collectively at the carpet and are ready to learn. This effectively reduces behaviour problems before they get started during the transition back into the classroom."
This new approach has been worth all the effort. There have been so many positives from the introduction of this program. We know that student learning has increased, based on early indications from our Grade 1 teachers and the timeframe for learning new concepts in comparison to previous years. Prosocial behaviours have increased, which allows for a more positive learning climate; the workload for staff members is less and is also better defined; and enrollment has gone up.
All of these indicators support our desire for changing how we deliver our programming for our younger students.
En Bref: Élaboré sur trois ans, le Happy Creek Learning Center offre un programme préscolaire d'apprentissage pratique d'âges multiples axé sur le jeu et caractérisé par le coenseignement. Pour convertir les salles de classes fermées existantes en aires polyvalentes d'apprentissage où les enfants peuvent circuler aisément et déterminer une partie de leur propre apprentissage, l'école a abattu le mur entre deux classes et ajouté une porte d'accès à une troisième salle. Il y a donc trois pièces communicantes : la salle principale, la salle de la montagne et la salle du papillon, chacune conçue pour répondre à des besoins éducatifs différents. L'article présente un nouveau mode d'organisation pour un programme d'apprentissage en bas âge permettant l'enseignement collaboratif, un espace d'apprentissage plus imaginatif et fonctionnel et des liens sociaux plus naturels.
---
Photo: Jenn Bardarson Photography
First published in Education Canada, September 2016