The Whitworth Award
2013 – Dr. Kate Tilleczek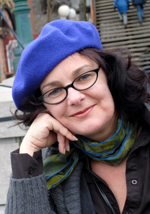 2013 CEA Whitworth Award Winner: A Sustained Focus on Students on the Margins
Dr. Kate Tilleczek recognized for her outstanding body of research that documents the impacts of the modern world on young people
The CEA is pleased to honour Dr. Kate Tilleczek, Professor and Canada Research Chair in the Faculty of Education and Arts (Sociology/Anthropology) at the University of Prince Edward Island, with the 2013 Whitworth Award for Career Research in Education. This award is in recognition of Dr. Tilleczek's work in articulating the impacts of modern society on marginalized students in the context of transitions through school, mental health, and technology.
After 15 years of teaching at a regional university in Northern Ontario, Dr. Tilleczek embarked on a research career to explore how and why socioeconomic status represents one of the greatest predictors of how well students do at school and later in life. In 2005, she joined a group of dedicated colleagues at the Hospital for Sick Children with whom she continues to work today as an adjunct research scientist.
"Early on, there was a social justice undercurrent to my research as I thought about how schools are treating students from low-socioeconomic situations and with mental health problems, including First Nations and immigrant youth," says Dr. Tilleczek. "In my research to date, a story has emerged from many years of studying young people and public education – and from my personal experiences – that schools needed to do much better for students on the margins and come to terms with how they contribute to the marginalization of today's youth."
Based on her previous research on early school leavers, student transitions from elementary to secondary school, and the issue of marginality, Dr. Tilleczek's current ambitious portfolio includes community school building processes that engage students and communities in developing curriculum in both inner city Toronto and in five aboriginal communities in Southern Chile. She is also leading an international study on the educational and social impacts of technology on young people, and is co-leading another project in each Atlantic province to study how youth and their families are moving through mental health systems.
"With the complexity of young peoples' social lives today, there are many teachers coming to me to say that mental health issues are the number one problem that kids are up against and they don't know what to do," says Dr. Tilleczek. "And you also can't overlook the incredible impact of technology on students' academic and social lives – both the good and bad of it. It is time to hear from the youth of today, not only about how they are using and making meaning of technology and digital media success, but also on their social success."
Dr. Tilleczek's research and publications to date – as well as her keen ability to assemble powerful research teams – inform policymakers on why and how they should make important policy and practice changes to better the lives of young people.
The Whitworth Award Selection Committee was appreciative of the Dr. Tilleczek's dedication to enhancing practice through careful theory building in education for the social well-being of children and youth in Canada and around the world.
"Dr. Tilleczek's work revolves around the biggest challenges that young people face in a modern world," says Dr. Michele Jacobsen, Chair of the Whitworth Award Nominations Committee. "We're fortunate to be able to look at these different aspects of their lives in such a compelling way through her compassionate lens."
To access a bibliography of Dr. Tilleczek's work, please visit: http://katetilleczek.ca