The Ken Spencer Award
Ideas that can transform learning
When the Community Becomes the School
2017 Ken Spencer Award-winning programs recognized for how local professionals, parents, teachers, students and their newcomer peers can work together to leverage real and relevant learning opportunities in their own backyards.
From an elementary school transformed into a vibrant mini-society, to students from different grades and cultural perspectives tackling complex problems facing their communities, these programs have won innovation awards because they empower young learners to understand how they can play a role in solving real-world challenges now, and in the future.
The 2016-2017 EdCan Network Ken Spencer Awards recognize the benefits of team-teaching, multi-grade classrooms, and students connecting with local businesses, organizations and community institutions as supportive learning environments that break down cultural barriers. These programs encourage students' self-discovery that there's more to life – and to their futures – than getting good grades.
Ken Spencer Award recognition ceremonies are being planned in the school communities of the seven winners. This is the eighth year of this award, and the EdCan Network would like to thank the 102 school and school district staff for their time and effort in the preparation of this year's award application packages.
For a booklet showcasing the work of all seven Ken Spencer Award winners: www.cea-ace.ca/2017KSAwardWinners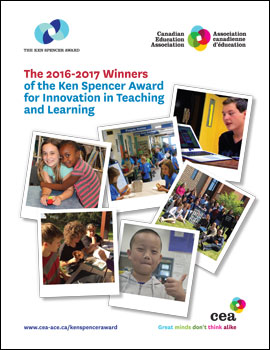 About Ken Spencer
Dr. Ken Spencer is a former EdCan Network Director and retired CEO and co-founder of Creo Products. Dr. Spencer has served on several not-for-profit boards, including UBC's Electrical and Computer Engineering Advisory Committee, and the advisory board to the Dean of the Faculty of Applied Science. In 2011, Dr. Spencer was inducted as a business laureate of the British Columbia Hall of Fame. Since 2009, he has generously donated the financial awards for EdCan Network's Ken Spencer Award for Innovation in Teaching and Learning.